Panther Tattoo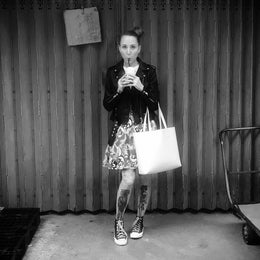 Just imagine: you're wandering the jungle, looking to discover the next exotic orchid species when you climb over a fallen banana tree to come face-to-face with a super scary key-key, the panther! Then you wake up and you're late for work.
Oh well.
Dreams can come true if you've always wanted to come face-to-face with a wild panther but by wild you mean a temp tattoo and by face-to-face you mean that you put said temp tattoo somewhere on your body.
Rawr.
At any rate, Jessi Preston nails (claws?) her interpretation of a black panther in that classic Americana style that she's really made her own.
Size: 3" x 4.5"
Tattly tattoos are safe and printed with vegetable-based ink, lasting on average 2-4 days. We suggest placing on oil-free areas where skin does not stretch and keep them clean! Watch our Application Video to become a pro.
Portland, OR
Jessi Preston has traveled as an unarmed gypsy, mastered the art of pinata destruction, and managed to elude Bigfoot since receiving her BFA from the Tyler School of Art. She is co-owner of Two Horses Tattoo & Hair Boutique in Montreal and Lombard Street Tattoo in Portland, OR and currently works as a tattoo artist, illustrator and graphic designer. Jessi specializes in traditional tattoos, class acts, and other uncomfortable situations.
Shipped with love outta Brooklyn, NY.
Free domestic shipping with orders of $40 and up
A note for international customers: Occasionally overseas shipments will take a longer time due to the delivery country's customs. Each customs office is different and Tattly is not responsible for any extra fees or tariffs.

Application
Applying Tattly is SUPER EASY!
1. Skin should be clean, dry and free of makeup, sunscreen or lotions.
2. Remove clear top sheet.
3. Press tattoo, design facing down, onto skin.
4. Hold wet cloth against back of tattoo. Press down and make sure to wet it thoroughly.
5. Wait 30 seconds, then peel off paper backing.
6. Gently rinse image with water for best effect.