Focus On The Good Tattoo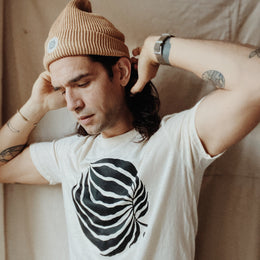 Keep it all in perspective with this typographical tattoo from artist Real Fun, Wow! It's a great reminder to see the glimmers in life and to hold onto your optimism. Everything is temporary—especially these tattoos!
Size: 2" x 3"
Tattly tattoos are safe and printed with vegetable-based ink, lasting on average 2-4 days. We suggest placing on oil-free areas where skin does not stretch and keep them clean! Watch our Application Video to become a pro.
Ojai, CA
Daren Thomas Magee is an artist and illustrator. Daren is a self-taught artist and human. He is continuing to navigate life in real time, making mistakes and learning lessons from them, as he goes. PS: He's opening a store soon!
Shipped with love outta Brooklyn, NY.
Free domestic shipping with orders of $40 and up
A note for international customers: Occasionally overseas shipments will take a longer time due to the delivery country's customs. Each customs office is different and Tattly is not responsible for any extra fees or tariffs.

Application
Applying Tattly is SUPER EASY!
1. Skin should be clean, dry and free of makeup, sunscreen or lotions.
2. Remove clear top sheet.
3. Press tattoo, design facing down, onto skin.
4. Hold wet cloth against back of tattoo. Press down and make sure to wet it thoroughly.
5. Wait 30 seconds, then peel off paper backing.
6. Gently rinse image with water for best effect.