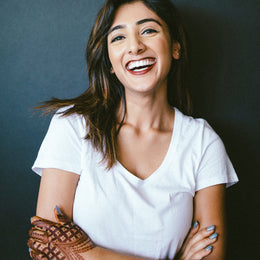 Did you know that in some cultures, henna designs (also called mehndi) are an essential part of celebrations? These designs by renowned henna artist, Divya Patel, will look gorgeous on your skin whether they're worn separate or together! You can apply this Tattly as a wrist cuff or anywhere you want to ornament. 
Size: 2.5" x 4.5"
Tattly tattoos are safe and printed with vegetable-based ink, lasting on average 2-4 days. We suggest placing on oil-free areas where skin does not stretch and keep them clean! Watch our Application Video to become a pro.
Toronto, Ontario
Growing up in India, surrounded by a diverse range of art and design, Divya developed an immense love for everything creative. From intricate patterns on clothes to vibrant rangoli art, South Asian culture's artistic expressions captivated her. Among all forms, the art of henna held a special place in her heart. As a child, she would gaze in awe as henna artists weaved intricate designs on hands and feet, using only a simple cone filled with henna paste. This fascination grew as Divya experimented with henna, starting with simple designs on her own hands. Soon, friends and family sought her artistry, igniting her passion further. What started as a hobby at a very young age blossomed into a full-time passion as she started to take on more and more clients. The pursuit of this passion birthed her brand "Henna by Divya".
You can check out her online shop here.

Shipped with love outta Brooklyn, NY.
Free domestic shipping with orders of $40 and up
A note for international customers: Occasionally overseas shipments will take a longer time due to the delivery country's customs. Each customs office is different and Tattly is not responsible for any extra fees or tariffs.

Application
Applying Tattly is SUPER EASY!
1. Skin should be clean, dry and free of makeup, sunscreen or lotions.
2. Remove clear top sheet.
3. Press tattoo, design facing down, onto skin.
4. Hold wet cloth against back of tattoo. Press down and make sure to wet it thoroughly.
5. Wait 30 seconds, then peel off paper backing.
6. Gently rinse image with water for best effect.